Wyposażenie łazienek
Wyposażenie łazienek powinno być planowane w momencie, gdy dokładnie wiemy już jakie funkcję łazienki będą spełniać – oczywiście w przypadku, gdy mamy dwa pomieszczenia w domu do przeznaczenia na łazienki. Inne będzie wyposażenie łazienek gościnnych, inne rodzinnych czy dla dzieci, inne będzie również w przypadku łazienek przy sypialni. Funkcje podstawowe powinny być ustalane na podstawie przyzwyczajeń i rozkładu dnia domowników.
Najpowszechniejszym jednak zadaniem dla nas jest wyposażenie łazienek uniwersalnych. W takich pomieszczeniach powinny się znaleźć raczej kabiny prysznicowe, ponieważ wanny zajmują dużo miejsca. W kabinie można zamontować też głębszy brodzić, co większa użyteczność prysznica, nawet jeśli nie można pod nim brać długich i relaksujących kąpieli.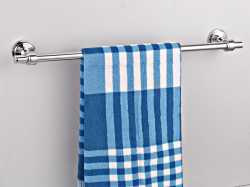 Wyposażenie łazienek uniwersalnych w bidet staje się powoli standardem. Finalna decyzja o jego zamontowaniu będzie należeć jednak do użytkowników. Bidet zajmuje przecież też sporo miejsca – więc możliwość jego zamontowania będzie też uzależniona od wielkości łazienki.
Kolejnym istotnym tematem jako wyposażenie łazienek jest pralka. Czasami nie ma innej możliwości i trzeba ją właśnie tutaj umieścić, nawet jeśli zajmuje dużo miejsca. Pralka musi być dostępna, aby można było wygodnie i bezpiecznie wyjmować z niej bieliznę. Powinna też być ustawiona w pewnej odległości od ściany, ponieważ jej pracy towarzyszą wibracje. Ustawiając pralkę trzeba też pamiętać o ogólnych zaleceniach, które określają odległość pralki od umywalki oraz od wanny czy kabiny prysznicowej na minimum 0,6m.
Planując wyposażenie łazienek powinniśmy też mieć na względzie jego ogólny wygląd. Po wejściu na wprost drzwi powinno znaleźć się wyposażenie atrakcyjne, ponieważ to właśnie ono będzie w pierwszym rzędzie po wejściu do łazienki zauważone. Nie zaleca się więc umieszczania w ten sposób toalety, ponieważ nie zapewnia to bardzo ważnego poczucia intymności w trakcie korzystania.