Baterie łazienkowe
Nowoczesne baterie łazienkowe Ventura firmy Oras zmieniają wygląd łazienki oraz standard korzystania z wody. Fińska firma wyznacza ponownie trend wzornictwa armatury sanitarnej. Jej baterie łazienkowe spełniają oczekiwania ludzi odnośnie korzystania z wody.

Baterie łazienkowe Ventura są nowatorskim rozwiązaniem łączącym dwie wylewki oraz dwa sposoby wywoływania strumienia - tradycyjny za pomocą uchwytu oraz bezdotykowy.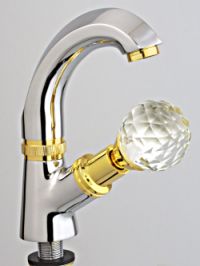 Funkcja bezdotykowego uruchamiania strumienia z dolnej wylewki, pozwala umyć ręce bezpiecznie i higienicznie w wodzie o stałej temperaturze i sile strumienia. Brak ryzyka poparzenia się wodą to tylko jedna z zalet baterii elektornicznej. Drugą jej bardzo ważną cechą jest oczszczędność wody i energii. Czas jednorazowego wypływu wynosi maksymalnie 3 minuty, potem strumień jest automatycznie wyłączany. Niedokręcone kurki czy czasami zalana łazienka należą już więc do przeszłości. Baterie bezdotykowe ograniczają zużycie wody od 30% nawet do 45% wody, a energii, która potrzebna jest na przygotowanie tej wody nawet do 50%.
Baterie łazienkowe Roca MOAI są kolekcją firmy Roca. Są to jednouchwytowe baterie łazienkowe i kuchenne, które wyróżniają się się najmodniejszym, geometrycznym wzornictwem. Baterie te stanowią modny akcent w każdej łazience niezależnie od jej wykończenia i wystroju dzięki niebanalnym kształtom. Są to zaawansowane technologicznie produkty, których użytkowanie pomaga znacznie zmniejszyć zużycie wody i energii. Baterie łazienkowe Roca wyposażone są w zawory ceramiczne oraz systemy oszczędzające, pozwalające precyzyjnie sterować wielkością strumienia, czyli także zużyciem wody.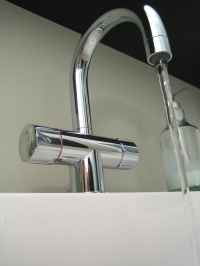 Z kolei nowe baterie łazienkowe Deante zwracają uwagę przede wszystkim nowoczesnym oraz modnym wyglądem. Mowa o bateriach jednouchwytowych Ibis, Domino oraz Slim. Baterie łazienkowe Ibis charakteryzują się ciekawym wzornictwem, łączącym w sobie dość masywne kształty korpusu, które zostały umiejętnie połączone ze szczególnie lekką dźwignią mieszaka i modnymi, łagodnymi łukami. Każda bateria ma głowicę ceramiczną 40 mm i ma 5 lat gwarancji. Baterie łazienkowe Domino są przeznaczone dla osób, które od armatury w swojej łazience oczekują więcej, niż funkcjonalności. Pozwalają osiągnąć bardzo przyjemny efekt estetyczny. Gwarantują mocne linie i ostro zaznaczone kontury. W serii Domino oferowane są następujące baterie łazienkowe: umywalkowa, natryskowa, wannowa, wannowa trójotworowa oraz bidetowa. Natomiast baterie łazienkowe Slim wyróżnia interesujące połączenie konstrukcji rurowej i nieszablonowe wzornictwo minimalistyczne.
Z kolei płaskie baterie łazienkowe wprowadziła na rynek firma Cifal Polska. Dostępne są w dwóch wersjach: wannowo-prysznicowej i prysznicowej. Są to baterie jednouchwytowe - za pomocą jednego uchwytu można sterować przepływem zarówno ciepłej jak i zimnej wody. Najbardziej oryginalne jest jednak umiejscowienie tego uchwytu i jego stylistyka. Rączka odpowiadająca za przepływ wody jest mała w stosunku do korpusu baterii . Uchwyt został umieszczony z boku korpusu stanowiąc jego przedłużenie. W wyniku tych prostych zabiegów korpus baterii i uchwyt stanowią jedną, poziomą linię. W efekcie powstały płaskie baterie łazienkowe cieszące się powodzeniem u tych, którzy szukają rozwiązań conajmniej oryginalnych.